---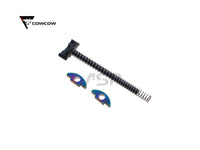 AAP01 Guide Rod Set

Highlighted features
6061 Aluminium material with CNC machined
2 Aluminium buffers for modification to shorten the cycling
Include Enhance 150% Recoil Spring
Enhance the reaction force to speed up the blowback cycle
Colors available: Rainbow
For Action Army AAP01
**Important Notice**

Increasing in FPS can be achieved; however, it may require other parts to collaborate and advanced skill is needed. improper installation / fitting can shorten the life of the product.

*PS: Please note: installing parts / assemble /fitting upgrade parts will need intermediate knowledge;Please refer to expert for proper installation / fitting. Modification may be needed as the condition of each brand and unit might be different. The actual performance is based on the overall tuning/setting on your unit. 
**FOR TOY ONLY**